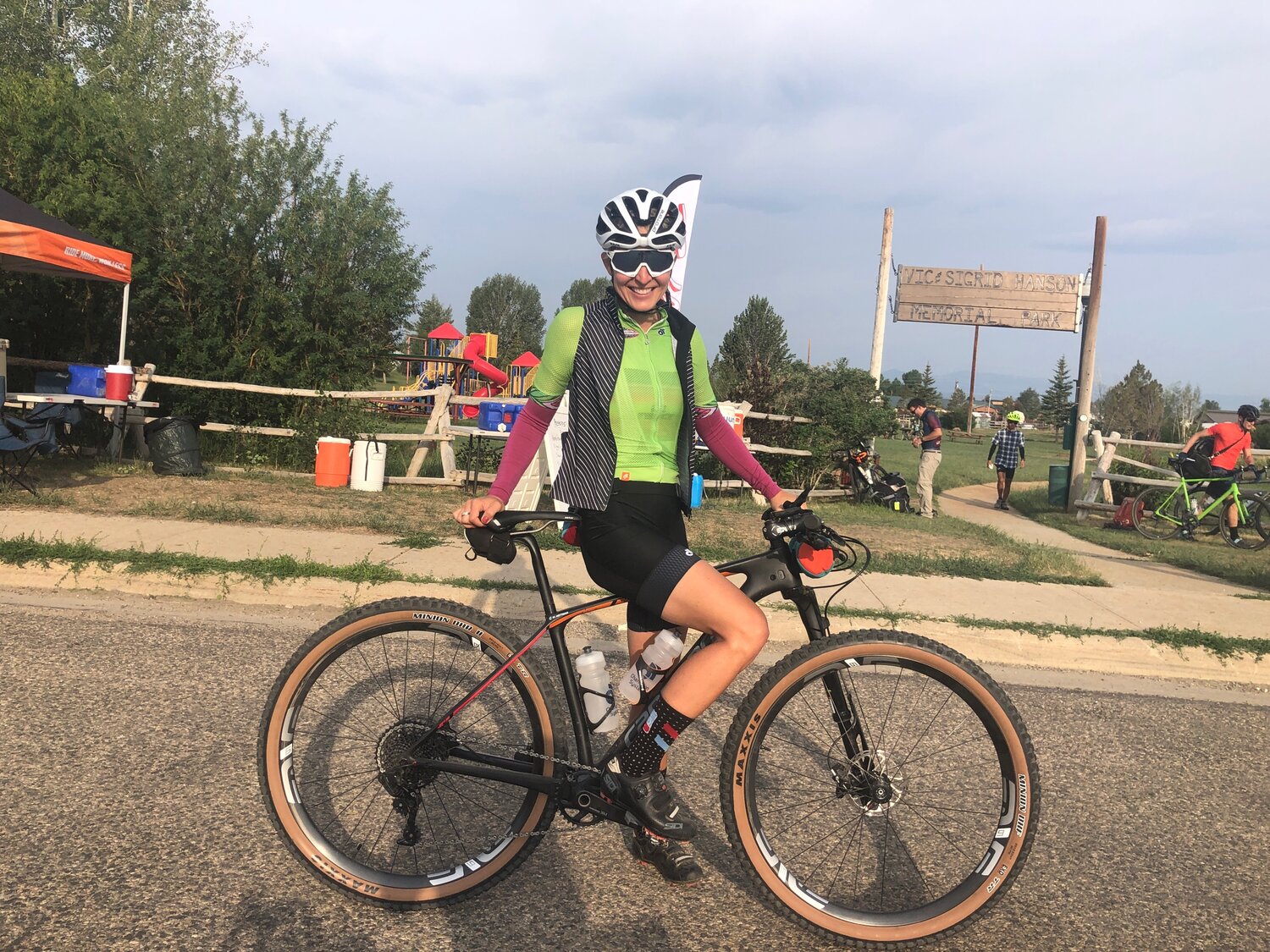 By Megan Hottman, follow her here: https://www.meganhottman.com
I carried my GoPro camera along and compiled a video of the trip. You can watch it HERE.

Day 1: 
Today was hard. Like… real hard. ? 
It's taken me 5 years to forget how hard this ride is/can be. I last did it in 2016- the first year they did this event- and I'd honestly forgotten (selective memory?)  just how difficult the riding is. And also how much fun… To get off grid away from cell signals; to meet a whole new group of rad humans; to ride bikes on quiet back roads with the ONLY objective of the day being simply to make it to the evening campsite, and set up my tent before dark.
Yes, It's a good way to spend a few days. I'm so thankful I can do things like this. 
The primitive simplicity of it is the biggest piece of this vacation for me –  we laughed today as we struggled up this brute of a climb, that we could be vacationing on a beach ? or in a ritz carlton but … why? We got to see the sights and take in the views from our bikes with only our legs to power us and mountain ranges and wildflowers and cattle and wildlife to look at. Yes it's hard —and it's also really rewarding.
Last night we arrived in Walden and camped there (I slept in my van, naturally!) and this morning we took off and rode 65 miles towards this lake, where we are camped out tonight. That doesn't sound very daunting but let me tell you… this course is NOT for the faint of heart. Over 5000 feet of elevation gain achieved at times on 15-18% gradient roads that were relentless; yes, some walking and pushing of the bike took place, I'm not gonna lie. 10mph average pace is the goal. and even that isn't always attainable.
From Ramble Ride Website:

Leaving Walden and heading north, we'll revisit the "OG" route, before looping back towards Independence Mountain with it's expansive North Park views. From there into the Medicine Bow NF, around the Zirkel Wilderness for a day, and then to Steamboat Springs for a third night camp. Our last day is up and over Buffalo Pass back to Walden. Now 258 miles and 23K of climbing over four days, if you are looking for a challenge, this is it. But with big challenged come big rewards. It'll be a ride you'll talk about for a long time.
I brought my Cannondale Fsi hard tail mountain bike – it's the perfect tool for the job here. Super light weight with the Lefty Ocho fork for some moderate front suspension, easily locked out when not needed. I just recently put on new wider tires too-2.4/2.5 nice and grippy. Albeit -a bit much for this ride – but being able to manage the gravel on these tires gives me immense confidence. The roads we're riding are rough enough this bike is much kinder on the arms and shoulders than a gravel bike would be plus some of these roads today were almost legit mtn bike trail-ish. I was glad for the front suspension and the upright position.  The bike was admired and wished-for by several riders. Gravel bikes are rad but they can be quite a bit less forgiving especially day after day. I'm thrilled with my choice of steed. 
This morning the RR Crew served us homemade bread pitas with eggs and sausage and spinach. Delicious.
Then the roll out time was up to us. The day's pace is up to us – it's a ramble NOT a race … some of us choose to travel light and let the vans carry the bulk of our gear while others choose to try out the full bike packing experience by loading their bikes with all the gear. We lighter riders rolled in earlier and those fully loaded down came in later. Then we all dodged a big storm that luckily blew through without pouring rain on us.  Tonight's dinner was burgers, veggies and cucumbers. So good. Out on course they kept us rolling with fluids and a solid lunch stop where Peter made us sandwiches – that was so good. Eating real food versus eating sugarybike food all day makes such a difference.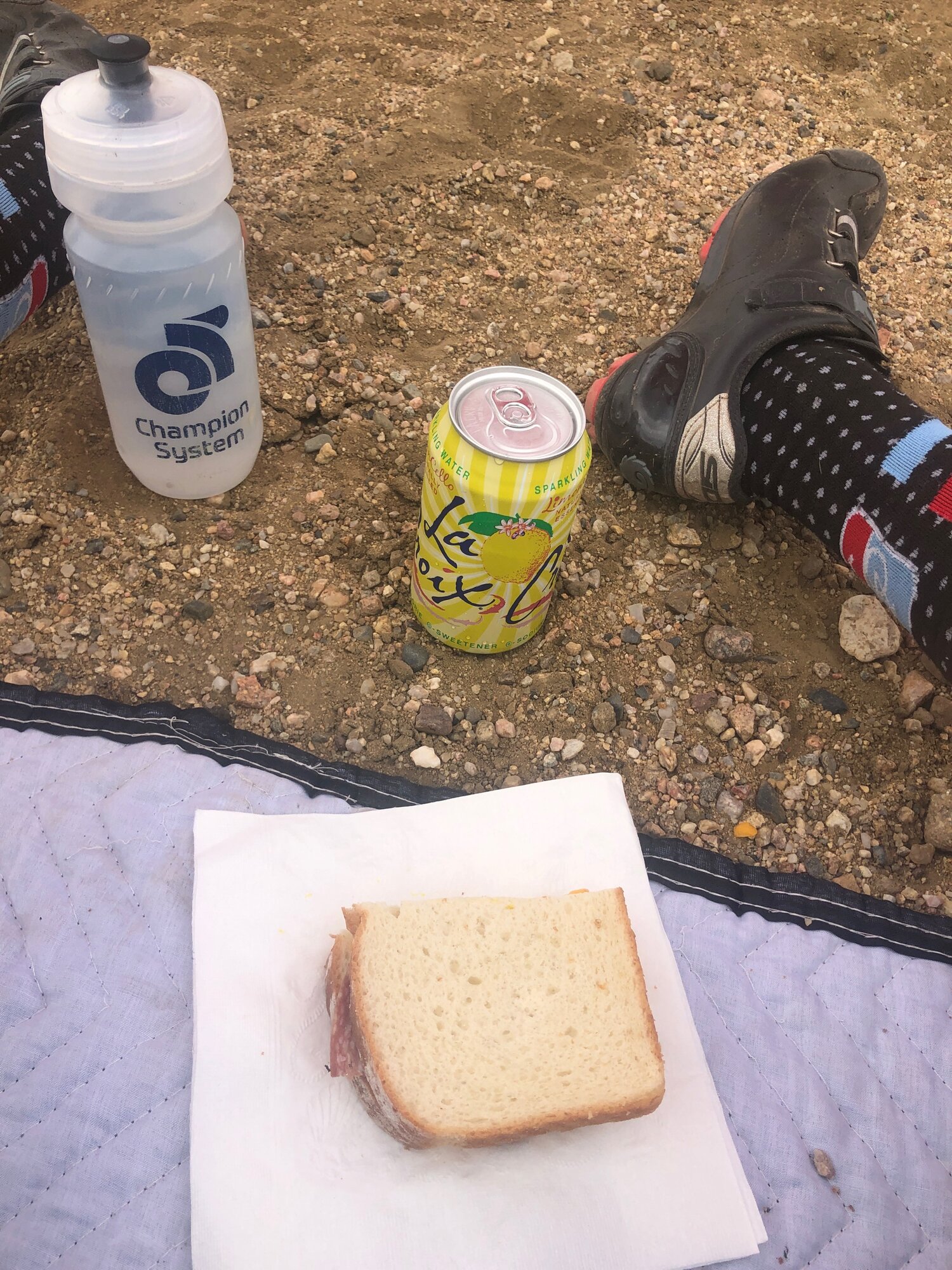 I type this tonight after this first hard day from inside my brand new tent – the first I've ever owned. ⛺️ Truly. It's the Big Agnes bike packing tent – (two person for more room!) and I highly recommend it ! Today was the first official time I've set it up for myself (i practiced last weekend but that didn't count). Tonight I'm set up right next to the lake where our campsite is …and I hear the water lapping up on the beach. I'm tired and so SO ready for bed. It's only 815. Too soon? I guess that's up to me to decide. I enjoyed lots of laughs with new friends at dinner and now it's time for me- for solitude.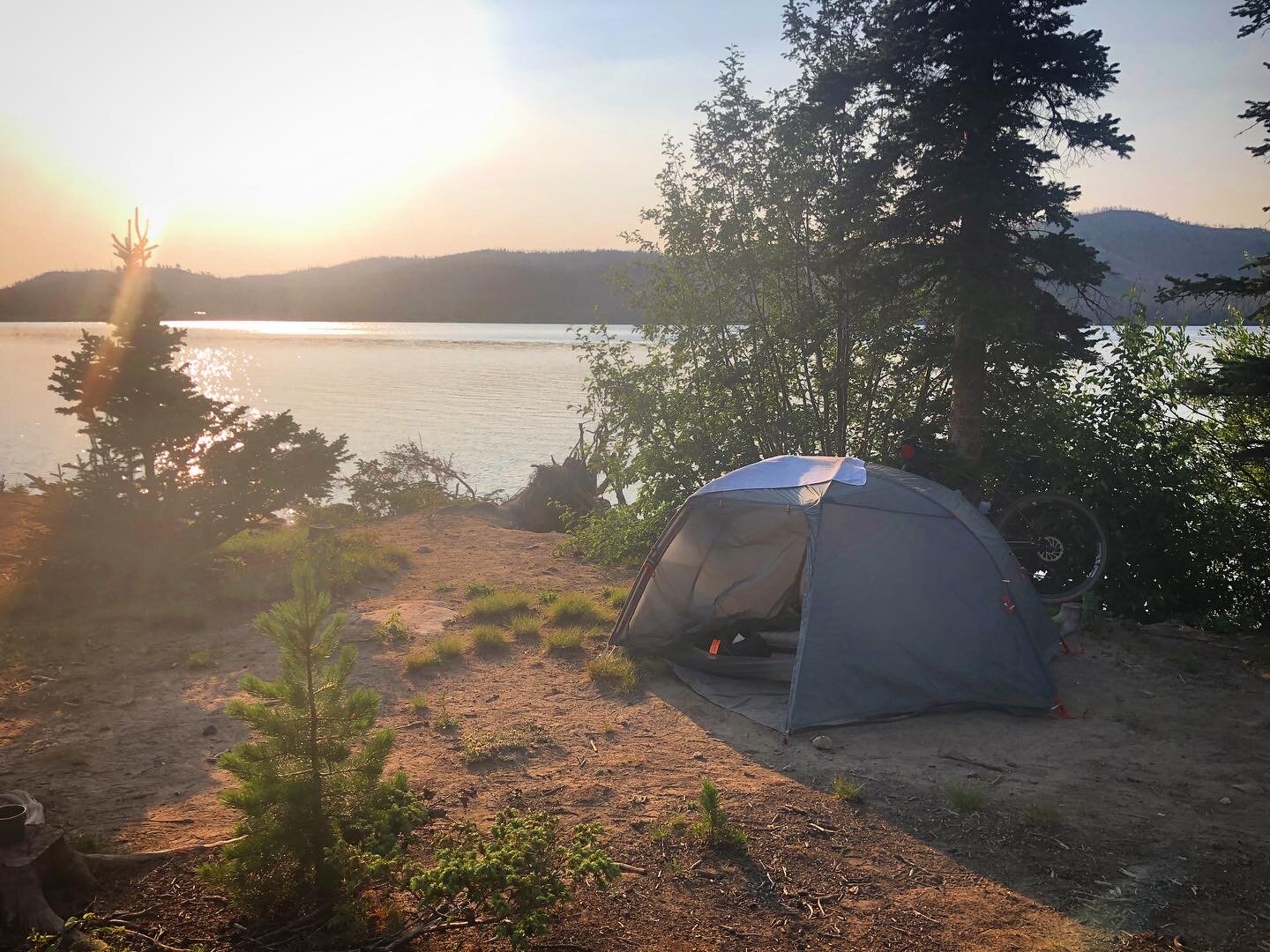 This trip was just what I needed; I needed a clean break from the daily duties to give my head time and space to rest and download all that's happened in recent months. So much loss and grief and trauma in the cycling world- far too many cyclists hit and taken from us. It's my job to stand up and do something about it but of course it comes with a personal cost; I'm not a robot- this stuff lands hard with me. There is a price it exacts from me as a human. Perhaps more than most since I am such a deep feeler. No amount of compartmentalizing has ever made this work easier me. I feel things very deeply, Especially others' pain.  It is how I'm wired; it's how I see and experience the world- deeply- with my heart out front of me taking it in. It is both my greatest strength and also at times my greatest weakness. Lawyers aren't exactly supposed to wear their hearts on their sleeves. 
So I'm out here trying to heal my heart by riding bikes in nature away from screens and cell towers. Today was hard enough that the monkey mind is for the time being, Silenced. ? The fatigue quiets the mind and for that I say thank you. ?? I'm tired mentally and physically and I welcome rest tonight in this cute little new tent home of mine surrounded by new friends and colorado gloriousness. If that isn't a salve for broken hearts, frenetic minds and emotional wear and tear, I don't know what is. ❤️ ? ? ? 
Tomorrow is a shorter day followed by two longer days: days 3-4 are re-routes due to the morgan creek fire currently burning which affected the original route. We won't make it into steamboat as originally planned but that's ok – this way we can leave our tents set up for both nights 2&3. 
We will ride back into Walden on Saturday and then I'll head home- I hope- with renewed spirit, clarity in some big decisions pressing down in me, and tired legs. And a little more fitness than I had when I left home, I hope. 
Day 2
Much shorter ride today thankfully. Everyone was upbeat this morning as a result; yesterday wiped all of us out. Today was just 41 miles and normal climbs, none of that 15-18% gradient stuff we had yesterday. The highlight of the day was riding smack into a cattle drive on the road – we rode through a large herd broken up into three squads – I got to see cattle dogs working the herd back down towards the road and cowboys and girls working the herd forward. With their blessing & encouragement they told us to ride right through the cows. It was exhilarating and intimidating both. I was all by myself for most of it. Another rider (Jeff from Marin County CA- hospital IT) caught up to me towards the end which made me feel better. Those animals are large up close. And noisy and talkative ! It amazed me how scared they were of me riding my bike by myself into their groups. Some ran alongside me for awhile. Truly a remarkable experience. ?
We set up camp at the lake here (hog park) and this will now be our home for two nights. This lake is gorgeous and great for swimming. I didn't set up camp quite as close to the water this time; instead I opted for some tree cover and I was hoping it would give me some wind cover too. But right now we are in the midst of quite a storm with strong gusts and rain and it doesn't feel like the trees are helping. I can't believe this tent & what it is capable of handling right now. I am truly Impressed. (But if I'm being honest I miss the comforts of ? life!). 
With the early end to our ride today I had time to set up my spot and then I laid down in the tent and passed out for awhile. ? With no signal there's not much else to do and it was lovely to just rest. Nowhere to be. Nothing to do. Hunkered down while the storm passes (we hope) before dinner time. It truly does feel like vacation when the only job at hand is to rest. 
We enjoyed a wonderful dinner and another group sit afterwards chatting and laughing. So good for the soul- to meet kindred spirits from all over. There are riders here from CA, NY and everywhere in between. Many of us are from CO too of course. A CU professor, freelance writers from Foco and Aspen … a Lamborghini race engineer (I kid you not), folks from Pearl Izumi, a nurse, guys in mortgages from CA, a guy in real estate development from TX, a physician, several school teachers, a veterinarian— all ages and all levels of cyclist … so many interesting backgrounds and stories. I think I am the only attorney here- I wish more lawyers would avail themselves of experiences like this. 
Another light rain storm kicked up sending many of us to our tents to retire early. It's nice to lay flat letting the body just be. And without a book, journal or internet to read stuff online, I find myself literally with nothing to do but think about the things I came here grappling with. Funny how we can use work and being busy -in motion to avoid giving deep thought to the things most weighing on us. 
It's been 2.5 days since I last checked email and I can't express how freeing it is to be away from that endless beast. Having no signal is the only way many of us here feel we can truly let down and have a break. Crazy, isn't it… ?
Day 3: 
Today we had a 50-ish mile fairly challenging loop on tap starting & finishing at our campsite. Old megan would've ridden it and every other included mile for the achievement and accomplishment factor. Conquering every bit of it would've been the sentiment. ?
Current megan needed and wanted to show herself some love and take advantage of cell signal-less scenery by a beautiful lake. So I rode out an hour turned around and rode back for a nice easy two hour cruise. 
And then I rode out onto the boat dock here and sat there for a nice long while. As I stared out at the water, the tears came. Raw perhaps from tent sleeps and hard bike days – or maybe the grief saw a window of opportunity for release. Thoughts of my grandmother Jane and beloved dog Phoenix and friend Gwen came rushing to my mind; I sat and let the tears roll. The way our cycling community is hurting so badly this year with tragedy after tragedy — after last year when bikes saved so many people during Covid- it's been even harder to see the aggression and anger towards us as riders now that the country has gone back to its old ways …
It was cathartic. It needed to happen. I sat there until it felt finished, then returned to our campsite and washed my hair (in the lake) for the first time on the trip and chatted with members of the RR team and then passed out again… another hard nap. I woke to the sound of rain hitting my tent and the sounds of voices of riders starting to come in. They'd had a good hard day out there compete with hail and rain… I knew I'd made the right call for what I needed.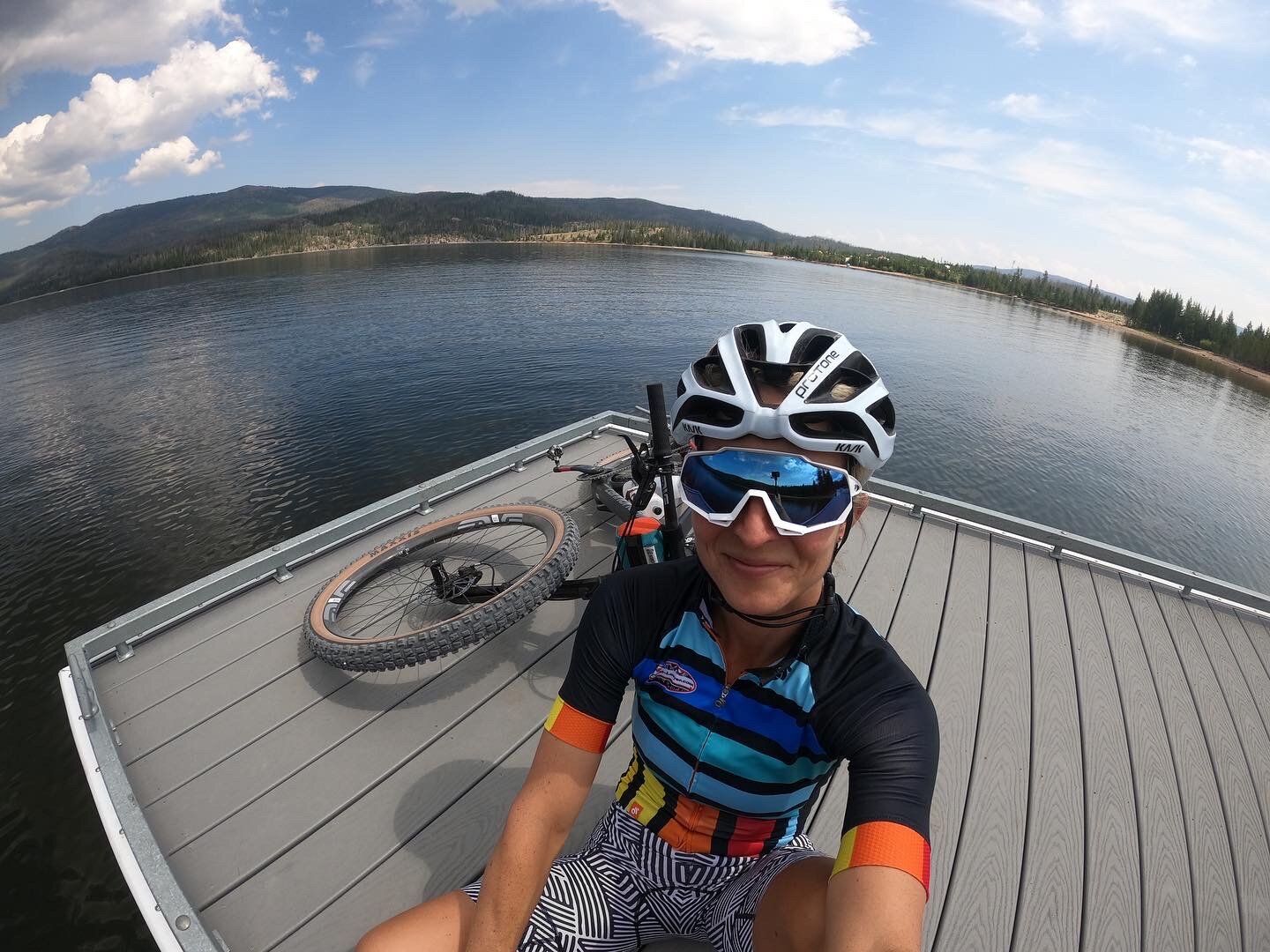 We enjoyed another fun evening of chatting, Jokes and laughter and then Peter bid us all farewell as tomorrow when we get back to Walden we'll be grabbing bags and departing for home. It was a lovely evening here with a gorgeous sunset ? and positive vibes all around. Everyone is tired //feeling accomplished & for good reason – peter said he designs these rides to be hard enough that we are pushed to new limits.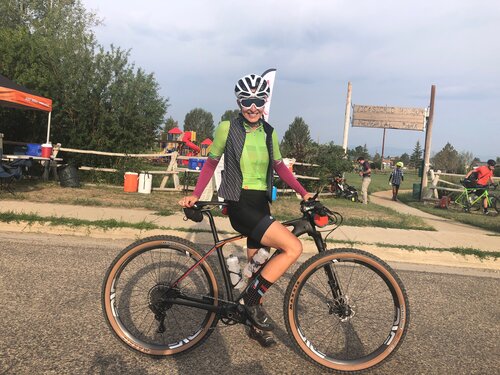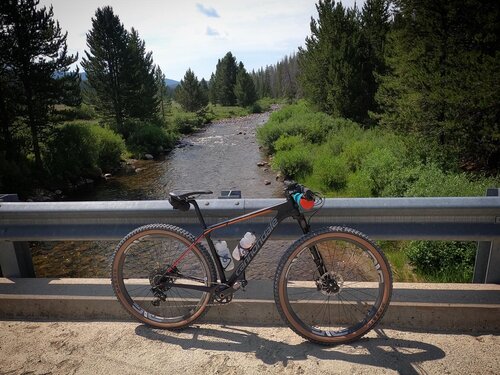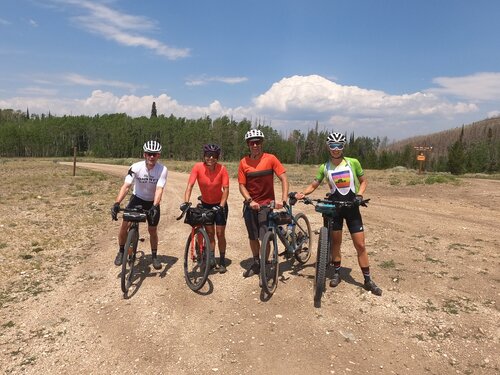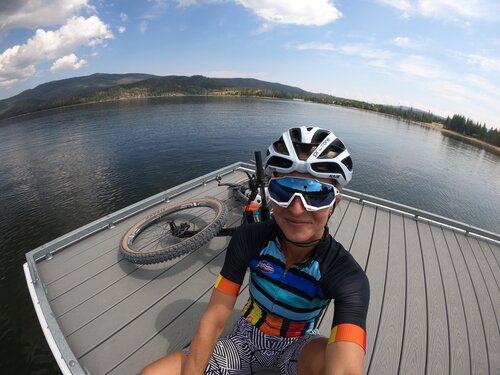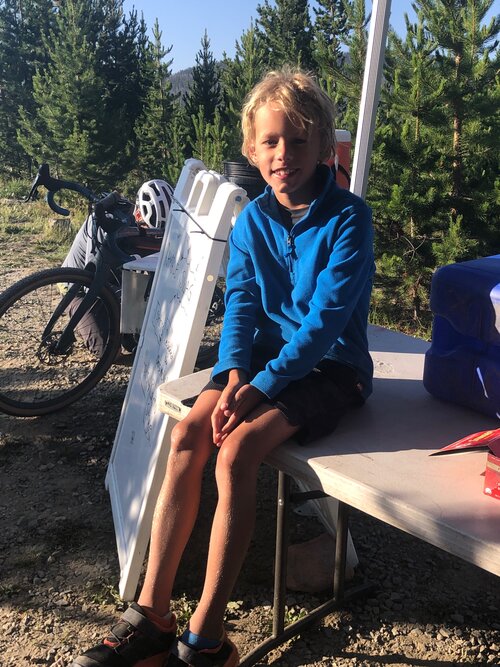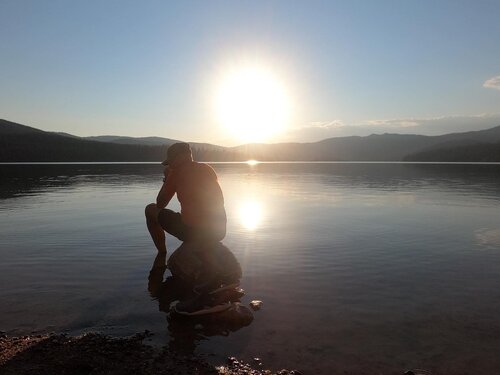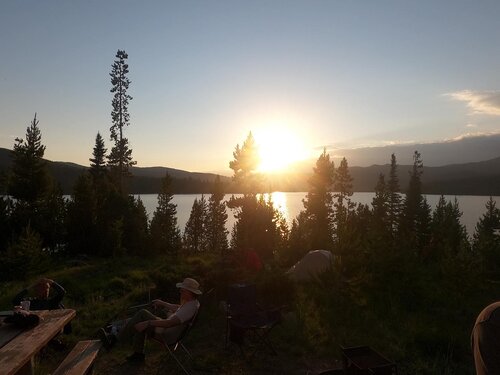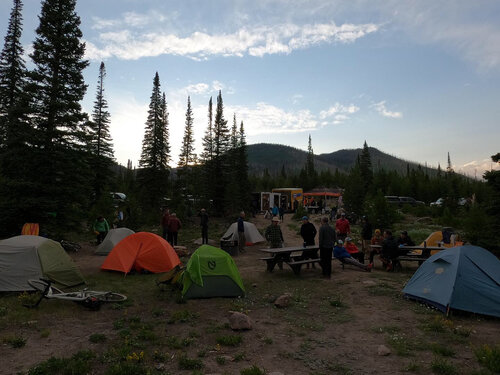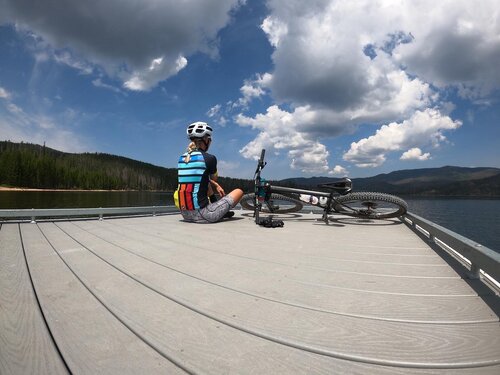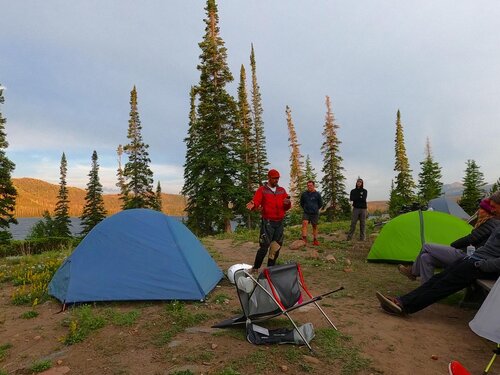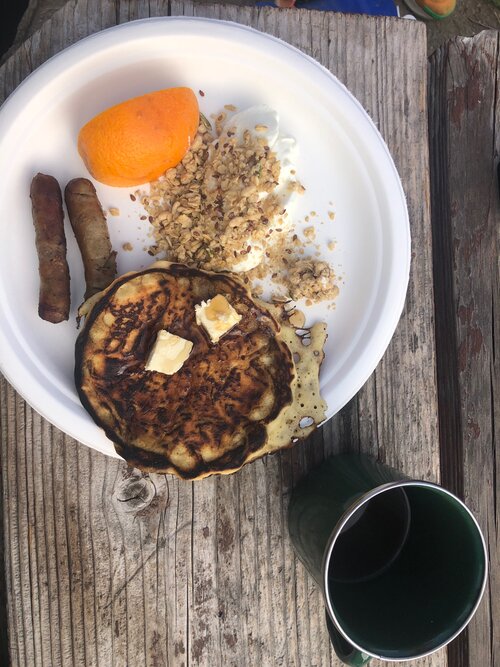 It's been a lovely adventure, one I needed and would for sure do again —and highly recommend to anyone who wants to get away for a few days but without the need to have to carry everything and be totally self supported. This is the perfect mix of roughing it and support – of feeling safe in the wilderness and also being self sufficient. You're on your own out there, mostly, but you won't be left behind, you'll be cared for it something happens … It's been fantastic. It's gone too fast.
Tomorrow will be a big hard day and I know I'll be sad when it's over. And I'll be glad to be home in my bed, too. I've really missed my dog Ramsey a lot while I've been here, she rarely gets left behind. 
I'm not sure I found the clarity I came out here seeking but my mind feels more sedated and peaceful than it did when we began… I have the sense that everything is going to be ok, which is better than when I started . I am thankful for the remainder of the weekend to download this experience and process it. I don't want to simply rush on to the next thing and get sucked back into work mode too quickly. 
Day 4: 
Today's ride was hard. It was gorgeous. And hard. Midday I got into a group pace line and we were so focused on clicking off the miles we missed a turn ?‍♀️ whoops. Added some bonus miles with that. County road 9b (9a?! ?‍♀️) was our reward- this gorgeous dirt road in the middle of nowhere it felt. Then it was pavement back into Walden …
The perfect end to a wonderful experience. I finished just as it started raining in Walden. Loaded up my stuff and began the drive home- loads of traffic plus a crash on Berthoud pass added an extra hour and let me tell you, the shower ? at home felt amazing once I finally got there. It was nice to have Saturday night and all day Sunday to process the trip and get stuff cleaned up and put away. 
learn more about future trips at RambleRides.com ✅
*******
Ok so- what to pack for something like this? We are limited to 80L bags. I brought a 60L duffel —
here's my pre trip load spread out on the floor (not shown-sleeping bag):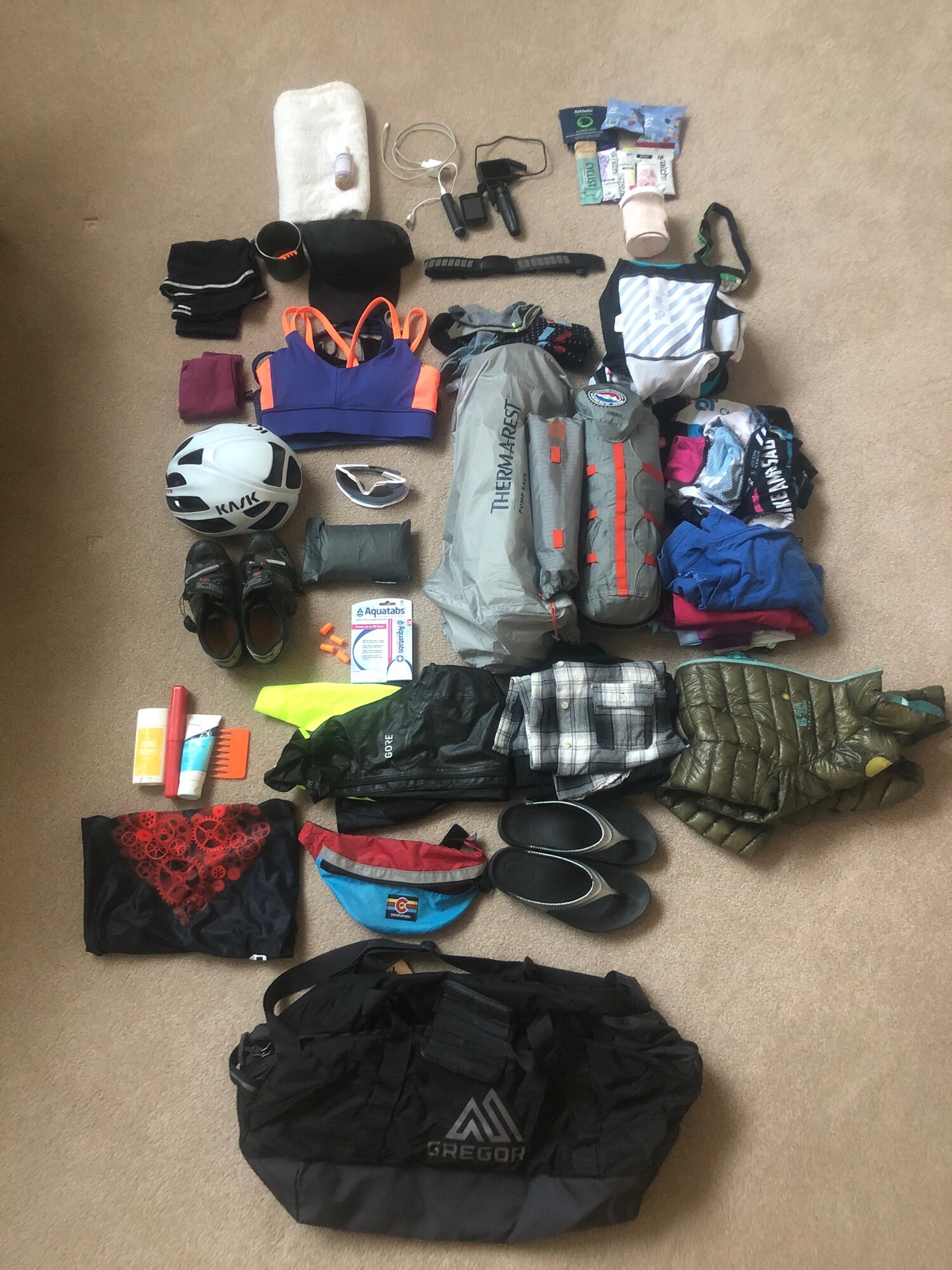 Guilty pleasure: clean bibs for each day (4 pair of cycling shorts). Fresh chamois makes a huge difference for me & it doesn't take up much space
Things I regret taking: none
Things I packed but didn't use: only two shirts & my swimsuit went unused. And some bike food that I didn't end up eating/needing. 
Things I wish I'd had with me:
a chair for the campsites
a Warmer sleeping bag ! mine at 30 degrees wasn't enough for me even with my puffy on and stocking cap while I slept – that higher altitude air plus being on the ground meant I needed a warmer bag ?
Rag for bike washing
Bug spray
Ibuprofen
Closed toed shoes- flip flops were bad idea. =Cold and wet or dirty feet all the time 
Headphones for evening wind-down in my tent or at minimum a book ?
All in all this was a wonderful experience- one I highly recommend. 
For more information go to https://ramblerides.com/contact/ to see what other events they have happening