By Megan Hottman
While I've spent a lot of time in Arizona in my life, I've never made it to Tucson. When I began mapping out my vanlist dreamlist of places I wanted to do, Tucson was on the list. For very specific reasons: I wanted to ride the "loop," this amazing network of protected bike lanes all over town, totaling close to 130 miles (basically, a bike advocate's dream come true, short of visiting Copenhagen!); and, I've wanted to ride Mt Lemmon, a nice long sustained climb that I've heard about for years.
This story was written by Megan and first posted on her blog https://www.meganhottman.com Check it out to read about her adventures and thoughts on life
So I set up my work week to allow for a midweek visit. Because vanlife and living a life by design, on purpose, to me means maximizing the days and times during the week as opposed to only seeking fun and adventure on weekends — you know, when the rest of humanity is out doing the same. Friends, weekday exploration is where it's at. So- looking ahead, I crushed work and adulting and then punched out for a Midweek adventure.
I have been using an app/membership called Harvest Hosts, since buying the van. I went to the app searching for cool spots to stay and found the most wonderful hidden gem – called the El Pais Motel. Looking at the photos and reading the reviews I knew it was a "hell yes" for me and contacted the owner.
I am a sucker for women-owned businesses. I am a HUGE sucker for mom-daughter operations and that's just what this place is. I arrived and found myself in a funky, eclectic little haven. Perfect. I couldn't put the camera down.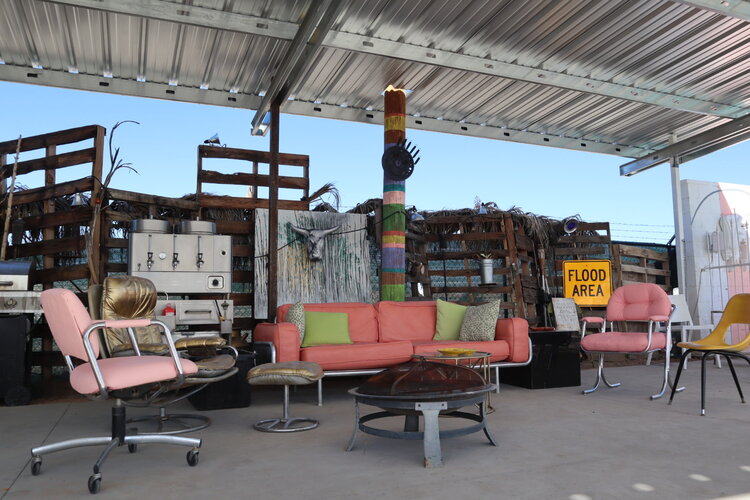 Even better – just .6 miles away is an "on ramp" to the "The Loop," the aforementioned bike super highway… so after settling the van in and getting my sidekick Ramsey sorted, I embarked on an exploration of the Loop.
Having consulted the maps, and seeing that it did make a nice loop of Tucson, along with the comments I saw online saying it was mostly well-marked, I didn't feel that downloading the .gpx file was necessary. Wrong. I had to learn this lesson (once) again— always download the route, when in doubt… it spares SO much stopping, second-guessing, iphone-consulting, perseverating…. so, I was not successful in riding the complete loop, sadly. I made a few wrong turns, and then to avoid being held up at a train crossing by what appeared to be the worlds-longest-train, I back tracked and rode some of the same stuff twice.
Regardless it was heavenly…. to ride so far away from cars, and to see some of Tucson that way — dreamy, I tell you.
And then I came back to my campsite, showered in the "clubhouse," settled in… and sat still.
See- the best part of van life is- there is NOTHING to really do. There isn't a house to clean or a stack of bills to pay, or any one of those million daily distractions and diversions that steal our peace and our joy. No – the van and its tiny living space allows for just a few things: relaxing, taking photos, eating, chatting with strangers in the park, sitting still, reading, journaling, blogging….( yes, work is always possible and yes I brought my laptop- but if the point was to intentionally punch out, I'm pretty good about not letting myself get sucked back in….).
After a recent coaching call with my amazing biz/life coach Shelley, I reviewed my notes from our call and this one popped out at me:
HOW CAN JOY BE A BIGGER DRIVER FOR ME?
Well this trip is a perfect example. It need not be long, or complicated, or expensive, or intricate to bring me joy- in fact just the opposite…. it is in the simple plans, the simple packing, the simple accommodations and the simple agendas, that I find joy.
Why do I let normal daily life pull me out of this mindset? Chaos & complexity diminish my joyful mindset. I know this about myself- as I'm sure you do about yourself (or whatever your patterns/triggers are). And yet. And yet…. the suck of the marketing campaigns and the societal drives to be BUSY always BUSY and sooo important and COMPLEX…. it just pulls us back in. Lulls us right back into giving up our joy. DOGGONE IT.
Why is zen so elusive in the day-to-day?
Also can I just share the question that keeps coming up for me lately is, "what is enough?" In all senses of the phrase … stuff, achievement, success, money…. what's enough? Do we know it when we see it? I contemplate this a lot.
Well back to Tucson… the overnight at El Pais was lovely. She has chickens here and they lay eggs and she includes FRESH FREE EGGS for her guests as part of the stay. I am not even joking you MUST come here and visit.
What I've learned about vanlife as a solo female traveler is that my sleep is only ever going to be as good as the level of safety I feel & experience when I park for the night. I have weapons in the vehicle, as well as bear spray, mace and a dog – my best defense is my intuition and when things just feel off or I don't feel totally secure when I lay my head down to sleep, it's a restless and tiring evening. And not sleeping takes a ton of fun out of the van experience.
Staying in a spot like this, surrounded by other friendly and like-minded humans, in a gated spot, where I feel safe and I can truly rest & sleep… now THAT is a recipe for success.