By Megan Hottman, courtesy of her blog MeganHottman.com
The tears welled up in my eyes today as I stood near the start line for the national anthem. It gripped me by the throat – more, I dare say- than ever before. My throat tightened and emotions bubbled up as I reflected on my reality:
I am at the start line of a bike race. ?? ?
One year ago, my world (and your world & the entire world) felt like it was ending. We were locked down and scared out of our minds with so much uncertainty, so many unknowns, so much panic. For the first time in my lifetime I went to my local Sprouts in March of 2020 and saw many of the shelves totally empty. How could we NOT panic when we saw our neighbors hoarding food and supplies?!
Colorado hard core locked things down right around St Patty's day. That's the day I really felt the shift and began to self quarantine because suddenly we were surrounded by this invisible, indifferent and apparently very random and contagious killer called Covid…. Those were the days when I wondered what was next – would banks & ATMs go bust? (Anyone else get charged by their bank for trying to withdraw cash to have on hand? ??… yeah that was scary as hell – they didn't want to part with it). I remember thinking I should've stocked iodine tabs at home in case water became scarce. A generator suddenly sounded like a really good idea but I didn't have one. We worried about whether the gas pumps would run out. We laughed about the TP shortage- kind of. A shortage of anything in this day and age was such a foreign concept…. How far would it all go? I grew tired quite quickly of the word 'unprecedented.' Ugh ?‍♀️ yes it was -and also let's stop saying that word over and over.
I remember thinking how thankful I was that Waste Management was still coming to get our trash- because … what if they hadn't?
I remember leaving thank you notes to my USPS mail carrier because what if he'd stopped delivering my mail?
Eerily and overnight -rush hour disappeared. I mean vanished. POOF. I could have WALKED down Highway 58 in golden or Colfax if I'd wanted to. I rode the 470 bike path along 470 and could count the cars on two hands. People joked about it being apocolypic and yes it very much was.

I recall Nat Geo posting that new earth tremors were noticed because we'd all quieted down. The air in Denver was the clearest I've ever seen – atop North Table Mountain looking down on denver there was no longer that brownish haze. We all stopped going places and hunkered down. The earth got to catch its breath.

The upside- we saw people taking to bikes like never before. Summer camps and school clubs and vacations were cancelled and families looked to bikes as one of the few things NOT cancelled. More people riding and fewer people driving meant we didn't get a call in my office that entire 8 weeks from any injured cyclist hit by a motorist. It was a small win in the midst of an absolutely terrifying time.
A year ago I didn't know if we'd ever get to bike race again. I didn't know when I'd get to see the cycling community again. I didn't know how long I would be locked up in my house unable to go anywhere.
And yet today there I was. About to toe the line of a race.
And let me tell you- it has been a MINUTE since I've had the pre race ? jitters. I mean I can't recall the last time I was so nervous and felt so new ….
Yes, I've been a bike racer for a long time. But aside from one 50-mile mtn bike race years ago and the couple chill 12-hour mtn bike races I've done on my singlespeed, I've not honestly raced proper mountain bike events and certainly never one for 3-days/stages.
I felt like a proper NEWB. Aka newbie.
I had to readjust my expectations and goals. From trying to podium or win, as historically was the case, to instead— having fun (first ?), learning something new (second ?), meeting new people and not crashing (ties for third ?).

In total candor I was so nervous about this I almost talked myself out of coming to the race at all. That's right. I almost chickened out. The fears of the unknowns and newness almost steered me into excusing myself due to rain or life stress or other reas…er, excuses.
I am so glad I didn't chicken out. ? Today I got to see racing through the eyes of a terrified newbie all over again. What kind of nutrition and warmup? What about kit versus skinsuit ? Will my fitness matter or will my skills hold me back? I don't want to crash. Crashing hurts.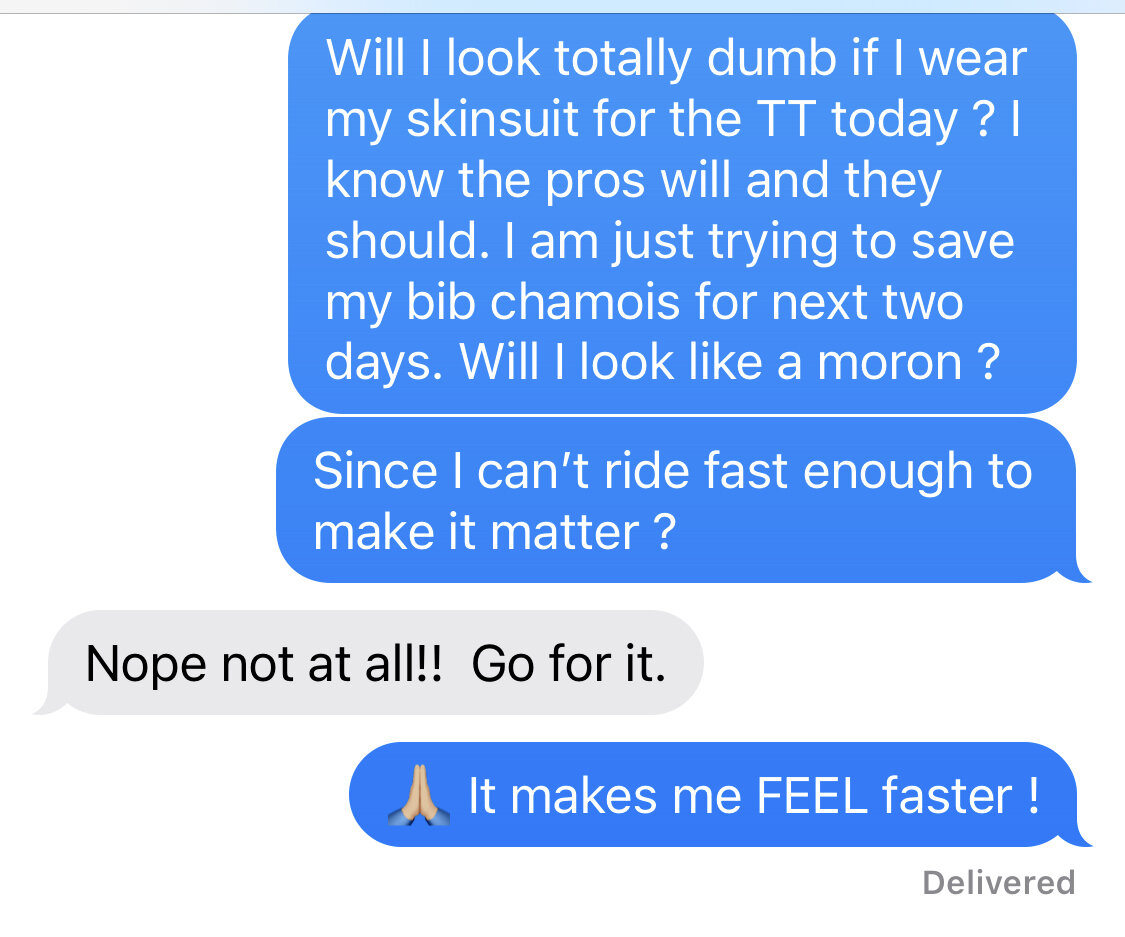 I was a BALL OF NERVES I tell you. And yet I had committed to myself to work more on moutntain biking in 2021– a commitment I made last year during the pandemic when I was looking for solace and a focus. Today I made good on my promise. I loaded up my new "big girl bike" and I decided to wear my "roadie" skinsuit and I gave it my all. I haven't seen heartrates that high in years. I can't remember the last time I have had the post-race "hack" … it has been a long time and it felt good to be back in the game.

As predicted … today's short and punchy time trial looked like this: me crushing the climbs & losing precious time on descents /tech sections. Any time I would make up on a fitness-dependent spot I'd lose on a skills-dependent spot. I finished 6th out of 7 in my AG.

Now-the old megan would have been disappointed. This megan is thrilled we get to race at all and she's thrilled she even toed the line today and she's stoked she didn't crash.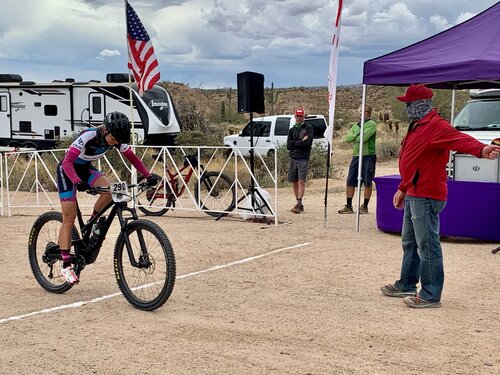 Tomorrow's stage is the 40miler. Sunday's stage is enduro format where we are timed based on fastest descent times on three segments.
I appreciate events like this which require a combo of skills and fitness. It's what I once appreciated about cyclocross racing too. That's not to say my fitness can't use some work- it can. I haven't done intervals in a realllllllly long time 🙂
All this to say- it's fun to be a newbie again. It's fun to do things that scare me and to enjoy them and push myself and yes- camp in the van too ? …
I have SO missed my wonderful cycling community and it's surreal to be back in the midst of it (albeit masked)… It's something I won't take for granted again that's for sure. ??
The afternoon and evening ended with a walk with Ramsey, camera time as well as a healthy van dinner and then some self care in the van like lax ball rolling and foam roller and meditation on the neck cradle. I got to try out my newest van toy- a usb /cordless mini blender. It was PERFECT for my post race recovery shake!!