As cyclists in the Covid-19 world seek more distance and less traveled roads and less crowded trails, gravel may be the perfect answer.
By Lauren Constantini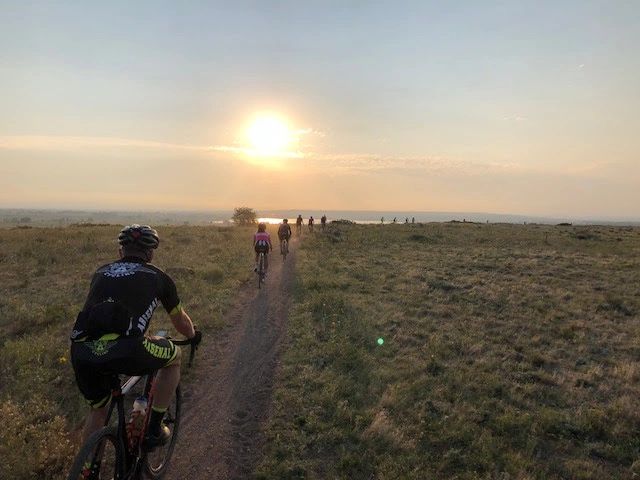 "Gravel" refers to essentially any non-paved road: jeep trails, utilitarian public or private country roads for farming, ranching, or oil/gas companies, and even roads that have been decommissioned. Surfaces can be gravel, mud, packed dirt, sand, and pebbles. Gravel bikes are ready for anything: washboards, singletrack, bikepacking, and pannier-loaded errand runs.
About the author: Lauren Constantini is the founder and CTO (Chief Trail Officer) of P.E.D.A.L Mountain Bike Adventures
One of the biggest differences between road, mountain bike and gravel riding are that conditions can vary more on gravel rides. Due to weather, the different types of gravel roads, and the limitations of skinnier tires when compared with mountain bikes, gravel riders must be ready for any adventure. Several gravel events have required the participants to carry their bikes for miles due to mud and difficult terrain. This is all part of the "unknown" adventure that appeals to many gravel riders!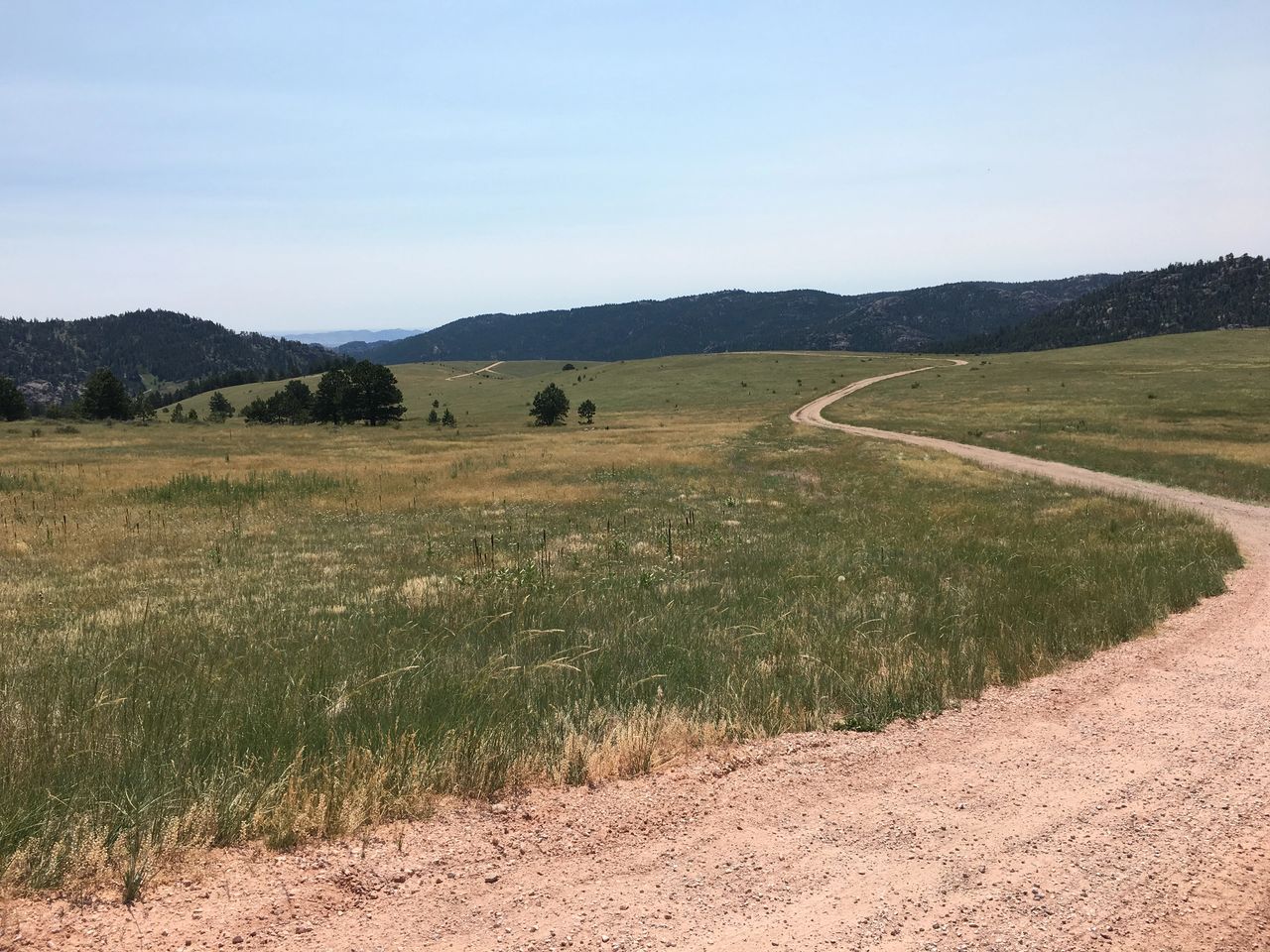 Riding gravel offers a new type of experience! The atmosphere of the gravel riding community is unique and tends to be more social compared to other types of cycling. It does not fall under any of the highly regulated cycling federations and requires no membership fees or licenses.
Below are 3 tips to know before diving into your own gravel adventure!
THE BIKES:
At first glance, a gravel bike looks like a road or cyclocross bike: classic drop bars, shifters, and the 700cc rims. But there are small tweaks and upgrades sprinkled throughout that help the bike handle rougher conditions.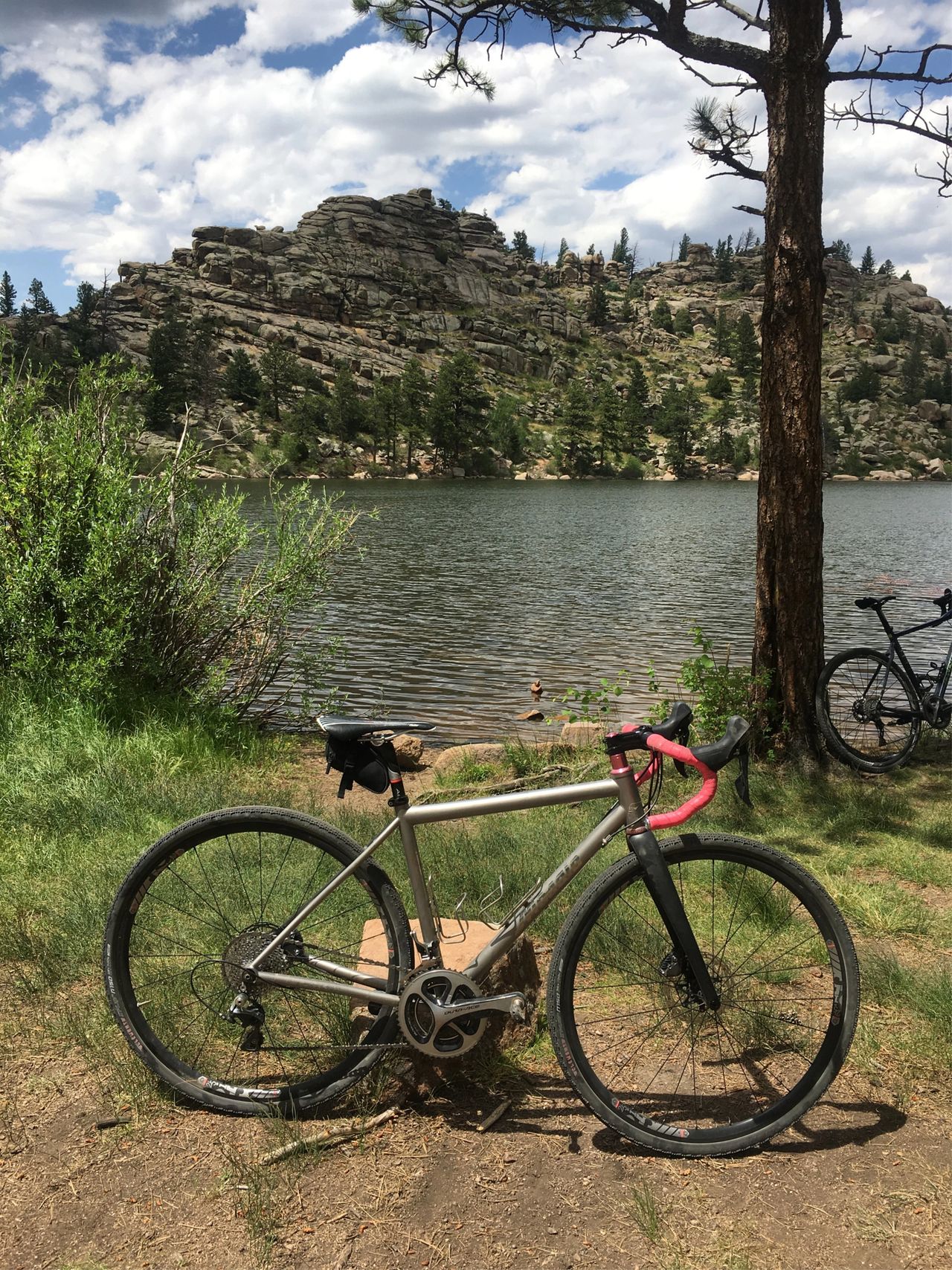 The primary difference is the size of the tires. You can ride your road bike anywhere your skills will allow. However slick and skinny tires only have so much traction, and pinch flats from hitting larger rocks at high speed are a problem. Also, the thinner your tires, the more you sink into gravel and come to a screeching halt. The wider tires of gravel bikes allow for fewer flats, more traction, and ability to ride through deeper dirt and gravel.
These drop-bar machines also tend to have a more-relaxed geometry and longer wheelbases than a normal road bike, which makes it more stable over uneven terrain at higher speeds. A more upright position, lower bottom bracket for stability, and clearance for wider tires. Flat-mounted disc brakes offer greater modulation and stopping power than the rim brakes usually found on road bikes.
Surfaces can get pretty jarring when gravel riding, so best to choose components that make the ride as smooth as possible. There are now a variety of stems that absorb vibrations and mute the effects of bumpy gravel roads (such as the Shockstop Stem that uses elastomers springs to smooth out your ride). This shock absorption makes for a great riding experience just as a suspension fork on a mountain bike can!
Tire pressure is another aspect of the bike that will greatly affect your ride and comfort on rough gravel roads. Setting your tires up tubeless lets you run lower tire pressures for a better grip in a variety of surface conditions. Play around with various tire pressures: too high, and you won't have enough traction to keep the rear wheel connected on the steep, loosely packed gravel climbs. Too low, and you'll be wasting power during the paved sections of the ride. A good starting point (for a 150lb rider) is to run 45 PSI rear/40 PSI front and adjust based on the terrain.
But these bikes can still hold their own on any road ride: they're durable enough to handle gravel trails, fire roads, etc while remaining light and nimble enough to efficiently cruise on pavement as well. Many of our friends here in Boulder have set their road bikes aside and use their gravel bike with 2 wheelsets (knobby tires and road tires) for gravel and road riding: more bang for your buck!
THE TECHNIQUE:
The key to riding in gravel is smooth lines. Avoid sharp turns: the deeper the gravel, the more your front wheel digs in and accentuates any steering movement you make. This is what causes most falls by making the front wheel more prone to sliding on the gravel. Sharp and abrupt turns are not good in any form of cycling, but you especially want to be sure of stable turning when conquering gravel terrain. The best technique is to gradually shift your weight and direct your hips in the appropriate direction. The most important thing to keep in mind is smooth transitions and gentle leans.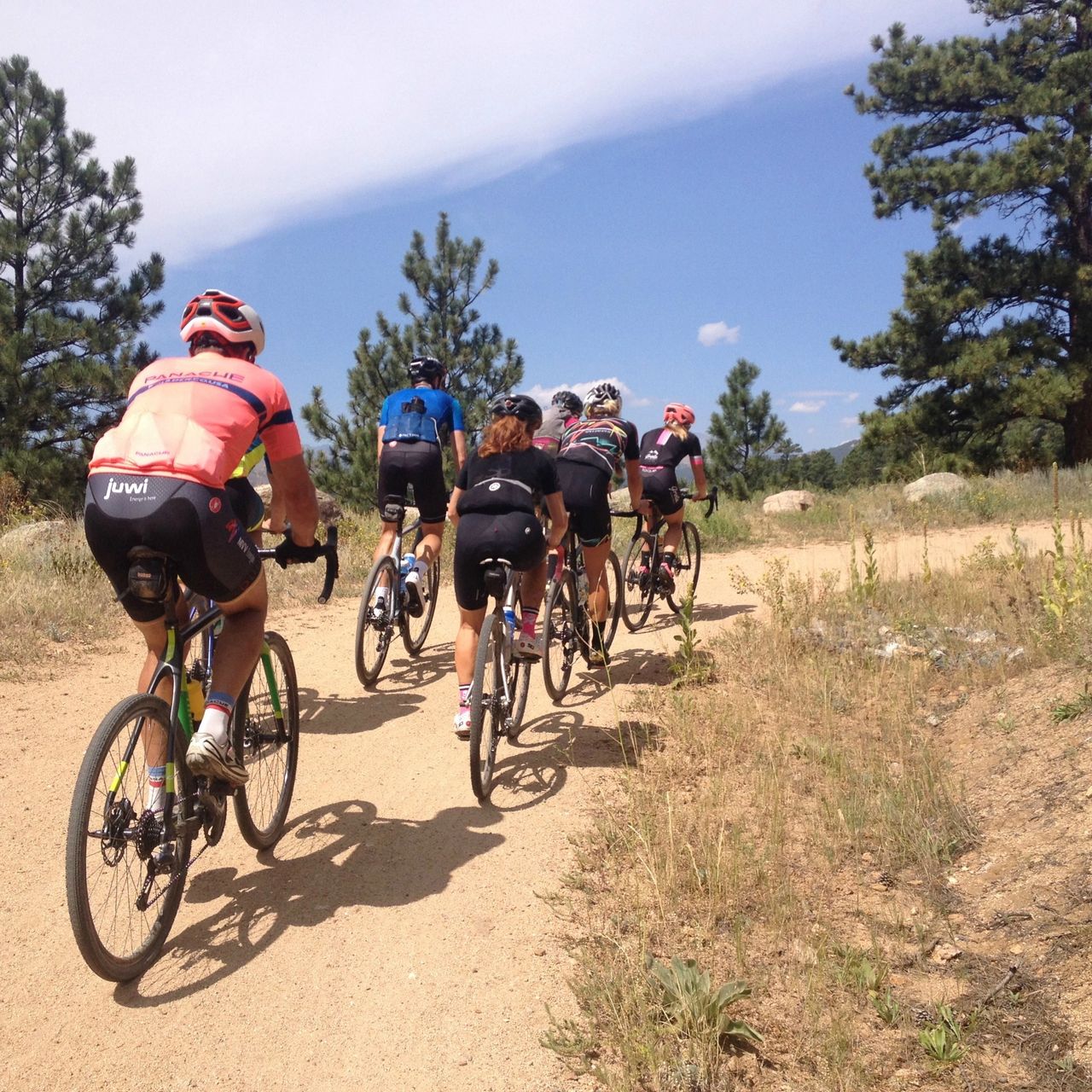 The gravel surfaces can range from light sand with grains of 1mm to coarse gravel with 1cm grains, to 5 and 10 cm (2 and 4 in) rocks. Basically, when the grains are near the width of your tires, it's time to slow down. When the rocks are bigger than your tires, be extra careful: the larger the gravel the slower you should go.
Remain seated as often as possible when riding gravel. You want all of your body weight centered when tackling bumpy terrain. When the going gets a little tougher, don't get out of the saddle to power through — instead, stay seated and gear down to ensure you stay in control over loose terrain.
It's helpful to relax and float over rough terrain. Keep the elbows slightly bent and relaxed, and avoid clamping down on the handlebars or braking suddenly – feather your brakes whenever you apply brakes on gravel. Washboards and rough roads can cause panic and the instinct is to hit the brakes, especially on a descent. But braking can cause the tires to lose contact with the ground instead of gliding over the rough patches.
GO FOR A RIDE!
Enthusiasm for gravel riding also comes from increased interest in gravel events. Beyond casual gravel riding, the gravel world is becoming increasingly rich with events and races. Although there is no shortage of epic gravel events, Dirty Kanza consistently proves to be the most anticipated gravel event of the year. Located in Flint Hills, the 200-mile race offers a great route and some of the most unique vistas around. The Belgian Waffle Ride, Crusher in the Tushar,Grinduro, and Farmer's Daughter have also been attracting increasing crowds in the past few years. Enthusiasts of such events congregate on sites such as ridinggravel.com.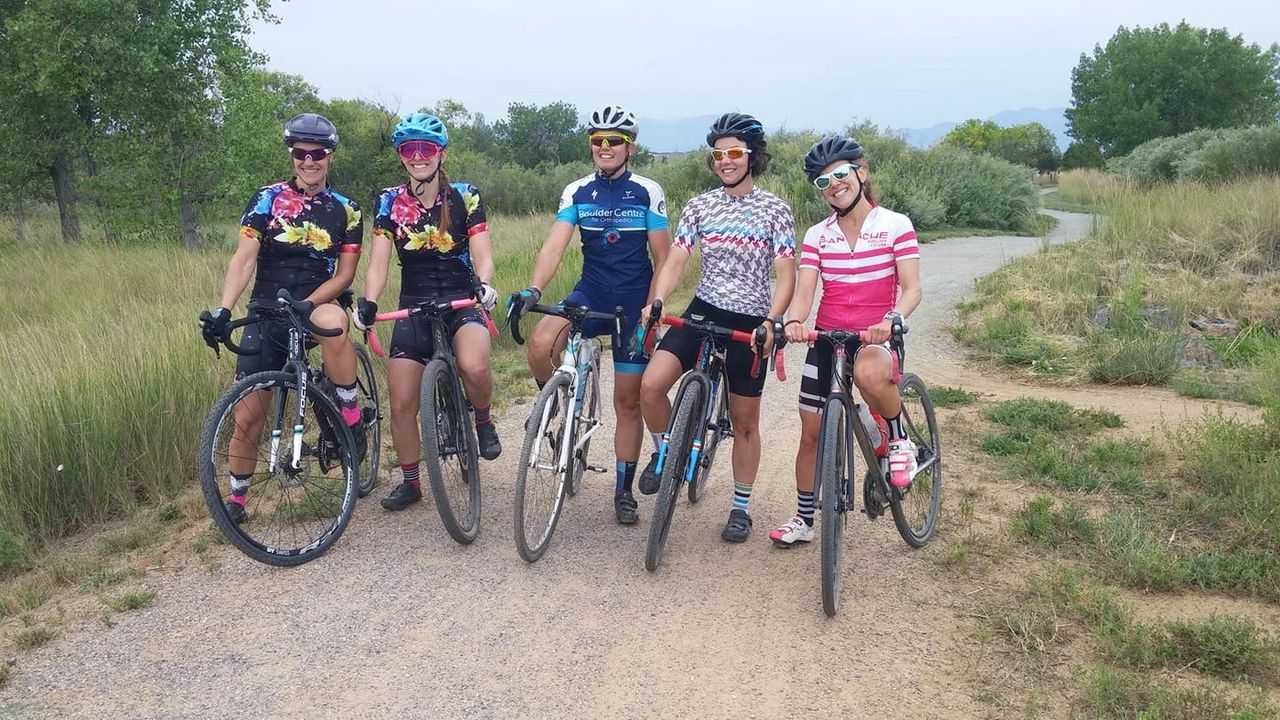 Bikepacking has also become a more-popular endeavor with the dawn of gravel bikes. Bikepacking is the synthesis of gravel riding and camping. It's the freedom of multi-day backcountry hiking, but with the larger mileage range and thrill of riding a bike. It's about exploring places less traveled via singletrack trails, gravel, and abandoned dirt roads, carrying only essential gear.
LET PEDAL MOUNTAIN BIKE ADVENTURES TAKE YOU ON A GRAVEL BIKE RIDE TOURS and ADVENTURE!  Check out all our rides at pedal-mtb.com/rides !